Being ethical is not always comfortable.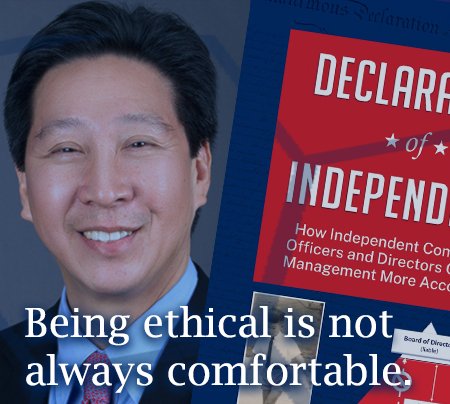 Why EthicalPebble?
Being ethical or compliant is not always comfortable – like pebbles in a shoe. Firms and CEOs should be placing more pebbles in their "corporate shoes" to invest in the right compliance skill sets and needed artificial intelligence technology and tools to enable predictive compliance & ethical risk analytics. Don't remove your ethical pebbles.
Eric Young re-engineers governance and compliance & ethics programs to enable strategic, responsible growth. His 40+ years of regulatory and chief compliance officer/financial crime compliance experience with major banks and industrial firms means that few have the depth and breadth of practical compliance experience across multiple industries as Eric.
Eric is a leading thought leader on the important relationship of corporate strategy and culture, governance, ethics and compliance through his articles, blogs and his latest book, "Declaration of Independence – How Compliance and the Board can Hold Management More Accountable
Eric provides commentary on current and emerging ethics, governance and compliance issues through thematic stories and lessons learned and how companies can achieve and sustain responsible growth through effective compliance.
Eric can assist you as advisor, mentor, and consultant through diagnostics, risk assessments, training and as interim chief compliance officer.